Today's the day my brother comes home! =) I haven't seen him in over a year! And that's pretty nuts for us since we're pretty tight. I'm stuck at work, Looking at the time every five min. praying that 2 hours have gone by each time .... ugh 5 more hours!!!! We're going to LAX where I've arranged for as many family members and friends to be there waiting for my brother's arrival. I made a sign already . ha ! Afterwards we're going to Ihop (since it's open late) and ahhhh I'm super excited!
Him being a dork in Greece
hmm what's been going on lately...? I've been doing a lot of unpacking, we still have plenty of boxes that we haven't unpacked in the dinning area oh and we don't have a dinning room table so we should probably start looking for that... Cosby is a psycho and has been really enjoying the new place & couch... He seems so much more happy where we are now. I'm Happy Too! =D
The other day I made a personal Thai pizza and drank some delish white ziffandel with it. I'm getting pretty good at mastering that recipe! My girlfriend Lupe ended up stopping by to see the new apartment and she loved it! We had a total girls night, eating Thai pizza and watching Teen Mom 2. Dang those girls are dumb... well at least Janelle is... ha
Yums!
The other I had a couple hours to spare after my first class (which was suprisingly fun!) so I went to the local TJ Maxx in Moorpark. I hardly shop at retail stores I try and keep it cheap if I do otherwise its thrift stores. But there were plenty of clearance items. I found cute pillows to go on our couch. $5 each. Not bad! I was worried they might be too girly but they actually go good on our nice couch. =)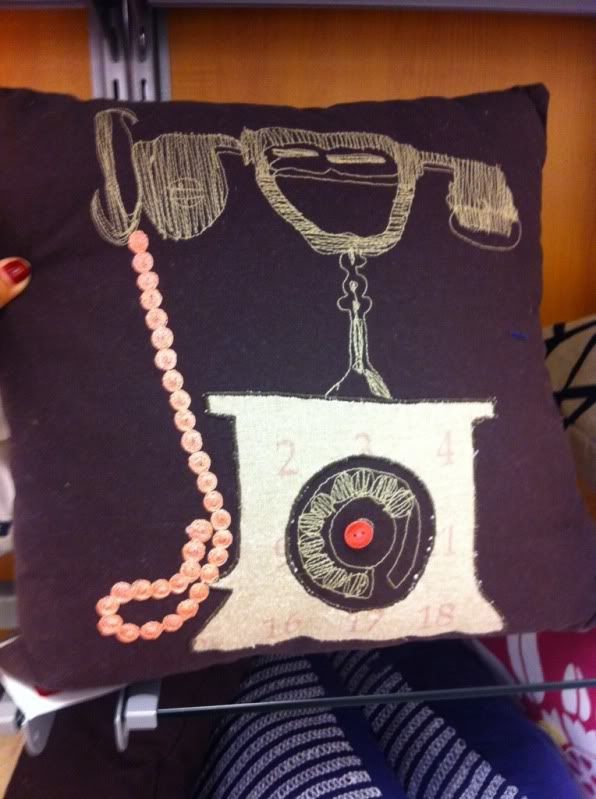 I also found some hair care stuff and comfy slippers that David calls "grandma slippers..." gee thanks man.. I've also been shopping around here and there for frames. I know the look I want, It's just tough finding exactly what's in my mind.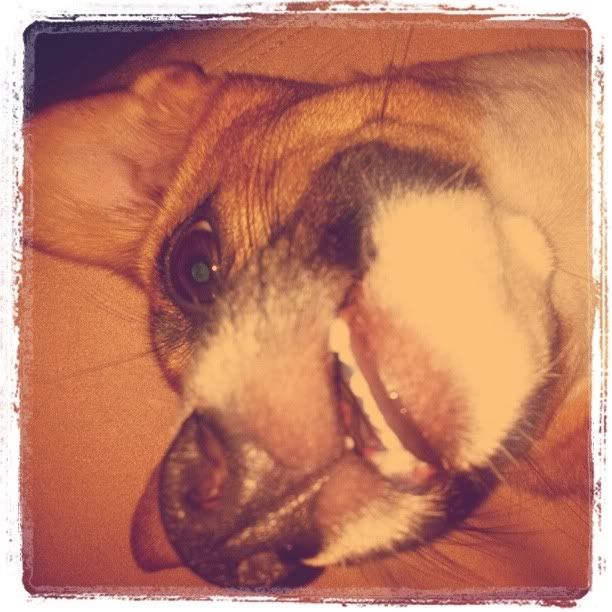 Cosby smilin'
So for tomorrow, I'll be going to my mama's house to throw a party for my brother's welcome home and it's also my mommy's birthday tomorrow! Exciting! Then on Sunday, David, my brother and I will be driving north to my dad's house for a welcome home over there with tons of people and food! What a fun loaded weekend! So I won't be on here for a while since I'll be busy catching up with the Brother and all. I hope you all have a fun filled weekend!!!
Ooooo! I forgot to mention! I got invited to an Academy Awards viewing party at the Jimmy Kimmel show on Feb. 26th! Amber from
Notes on M
invited me to be her date for the night & I'm stoked! I'll have to get something nice to wear. Maybe I'll get to see Channing Tatum! Oooo! Or Rachel McAdams! ha ok that's all. ;)Bye!