That's right! Time sure flew by fast this year! I can't believe how close Christmas and the New Year is !
I'm loving this season and all the wonderful Christmas cards our friends and family have sent us. =) I L OVE CHRISTMAS!
I've put them all on our bookshelf and through out the apartment.
I had also forgotten all about these cute little ornaments I found at the thrift store months ago! It was a big plastic bag full of these little doll like ornaments for .99 cents! So I added some more ornaments to the tree and put the left overs on our bookshelf next to all the cards. They are adorable!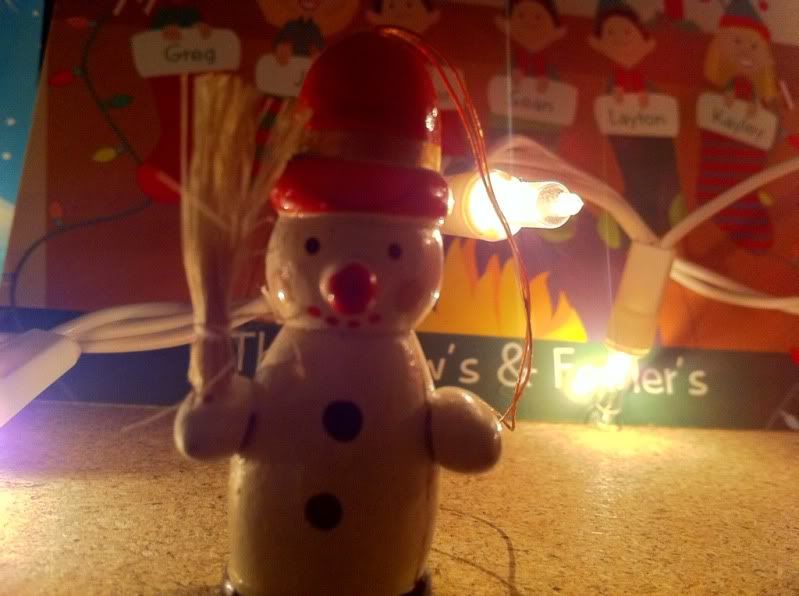 A couple of days ago we went to dinner with my mommy and stepdad at Mimi's Cafe, yummy.. And then walked around the mall. It was sweet! I had coupons for free pretzels and mrs.Fields cookies so we used those up. After the mall, David & I went to Christmas tree lane to look at all the decorated houses. It was cold out but so fun and Cosby loved it.
Me & My Booboo
Some random tall guy... jk my hub
My little creeper Cosby. =)
Lights Lights Lights!
A Charlie Brown Christmas!
It was a lovely time. Now for tomorrow, we need to get STARTED on our Christmas shopping! Can you believe we've waited this long?! O Man, I'm pretty terrified for what the mall will look like tomorrow but we've gotta do it! After shopping David & I are planning on going to.....
& all FOR FREE! DOUBLE WHOO HOO! I Can't wait! This should be fun, we've never been there together. I love everything rollercoasters or rides! I'll go on any and all of them! David won't though, he gets sick. We'll see how he does! Anywho, Hope you all have an awesome Friday and An AMAZING CHRISTMAS! God Bless you all.
2 Corinthians 9:15 (KJV)
Thanks be unto God for his unspeakable gift.
Luke 2:11
For unto you is born this day in the city of David a Savior, who is Christ the Lord.
Merry Christmas!