Well that was a blast! On Saturday early morning we packed our bags and took off deep into the desert! We drove to Las Vegas! We needed a little getaway together and Vegas is just close enough but far enough for a getaway! It was a 4 hour drive, pretty straight road with nothing but tumble weeds and sand. We barely stopped along the way, only to gas up and tinkle. Hahaa .Unfortunately I forgot my Nikon at home so I used my Iphone for all the pics.. =(
We didn't want to be dumb and spend money on things we didn't need so our whole trip was cheap! We didn't eat at any buffets or crazy nice restaurants. We brought fruit and snacks for the road and on the way stopped at a Chipotle's for some grub. I hadn't been there in over a year and man I forgot how HUGE those burritos are! So yummy!
ew I look gross. ha HUGE!








I had found a good deal to stay a night at the Hard Rock Hotel & Casino, It's a block off the strip but super close so it was not big deal. I was amazed with the room! I loved the Chic decorations and the bed was like this fluffy cloud of white! ahhhh it was delicious lol
Monkey on the bed!




There was a cool big blue velvet chair in the room!


The King in his Throne ;)




Hey what's up cutie?!






Being girly ready to go out!
After settling in we headed out to explore the crazy city of Vegas! We went to several different hotels to look at the beautiful different designs and casinos and whatever else was in them. We didn't gamble (what a waste of money) but it was still a good time!
In the Bellagio we saw many different things like :
This awesome Chocolate Fountain! Sweet! Literally!




They had a cute oriental section with music and beautiful gardens!




We wandered in side the Paris hotel and admired the cute little set up.
My fave thing is the lights!


That same hotel from the outside! I caught the moon! =D
we asked strangers to take our pictures =)


For Dinner we ate at PF Changs , I got the Crispy Honey Chicken and he got Beef & Broccoli, and I had a margarita he had a beer. It was yummy! I Loved the fortune that I got :
I Have been thinking about following my dreams lately and this totally motivated me =)




After dinner we headed back to our hotel to get some rest and then get dolled up and handsome for a night out. I was trying to arrange us going out for a night of dancing , but I had no idea how expensive it was just to get our feet through the door of a club ! $30 for ladies and $50 for men! Geeze Louis ! So we didn't do that . We walked on the strip and got a couple drinks until my feet died...
Davis open yo eyes! heehee


We ended up going to the Venetian, It was soooo dreamy and pretty and so Italy! I loved seeing all kinds of different brides walking around in there with their big gowns!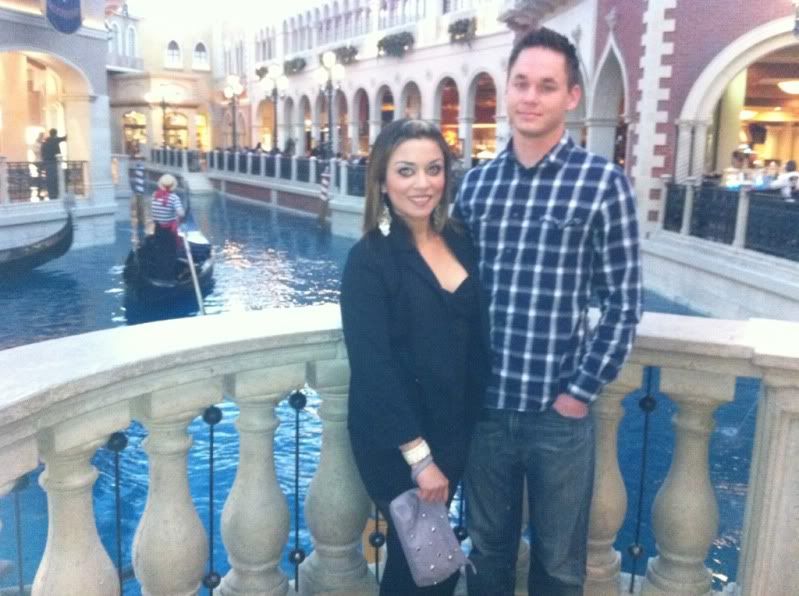 Gondola and man singing behind us. The ceiling was a cloudy sky! So pretty!
On the strip


pretty and sparkly!


The view from our room <3


It was fun! But to be honest we most likely will not come back for a LOOOOoooooOOOOng time ! It's just a bit too crazy for us. My family would always take me there for a summer trip and it was great but as an adult you see the crazy wild side to it and that's just not us at all.... from the moment we got there I kept asking David what he thought of it since he had never been there, and he started off saying it wasn't too bad /crazy.. I asked him a couple hours later and his answer was then okay I see what you were talking about but it's not horrible... Come night time I asked him and his response was "whoa.... I don't think I would come back...This place is DIRTY! " .. So yea It's fun for a day but it gets wild.
The next morning we woke up early and began packing, showered, got dressed and said Buh-Bye to sin city! We stopped at a Carl's Jr. (=p) and drove towards the Hoover Dam! That was my favorite place out of our roadtrip! The ride and the beautiful mountains along the way was awesome!
My little cranky morning bird




Ridin through the desert


And we're here!


blinded by the sun..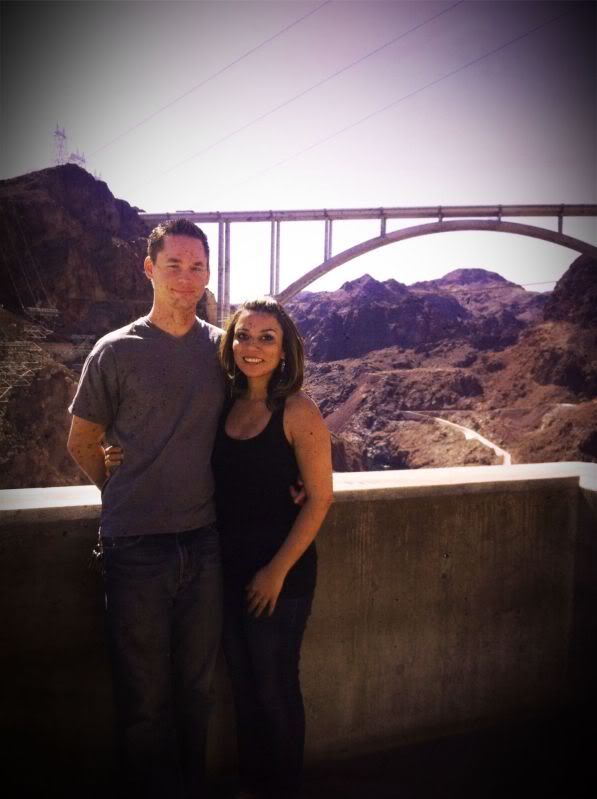 Being tourists..
The little happy married couple <3


Walked a little further and all of the sudden we were in Arizona! =)


We had such a good time just being together and enjoying eachother's company. We headed home soon after walking along the Hoover Dam, we both couldn't wait to be home and to see my little nugget Cosby. On the way home we stopped at a Walmart to get a few groceries and we got the baby a huge bone for him to chew on and the cutest, funniest pig chew toy that actully grunts like a pig when you squeeze it! At first everytime we would squeeze it he would run away and hide but after a half hour he started chewing on it and all we would hear was this grunting! It's the cutest thing to watch! On top of that, Cosby now grabs his toys and chucks them over towards us! He actually throws! HA! I love that little pup!
rawr!
My little foot with a stache ;)
& for dinner we had raviolis & veggies
We're both glad to be home with our son and rest for a bit, now onto serious stuff, today after work we're getting our taxes done..no fun. ha have a great Monday!
How was your weekend?