~A very delayed post, almost a month and a half ago~ We celebrated Noah's first Birthday! Friends and family came out to our parent's house, where we had the party. The theme was Bubble Guppies, since it's his one and only favorite thing to watch! All the food was made by me, David, my mom and my sister.
The decorations consisted of 2 huge blown up pictures of Noah that I had taken the week before. We took them to staples, got them on a poster board and than had people write all around the photo, wishing him a happy first birthday. We also had blue balloons all over the floor to make it look like an ocean. Poor David blew over 70 balloons that morning! Good thing he's got big ol' cheeks! =D
We also ordered two dozen different colored balloons filled with helium from party city. Did you know that you could pic out the balloons days in advance, pay for it and than pick them up the day of your party?! Such a great idea and made things roll smoothly! All the Bubble Guppies decorations I bought from Walmart. I went to 5 different Walmart stores and found only one that carried Bubble Guppies party decorations. I also kept it at a minimum but getting plain table cloths in blue.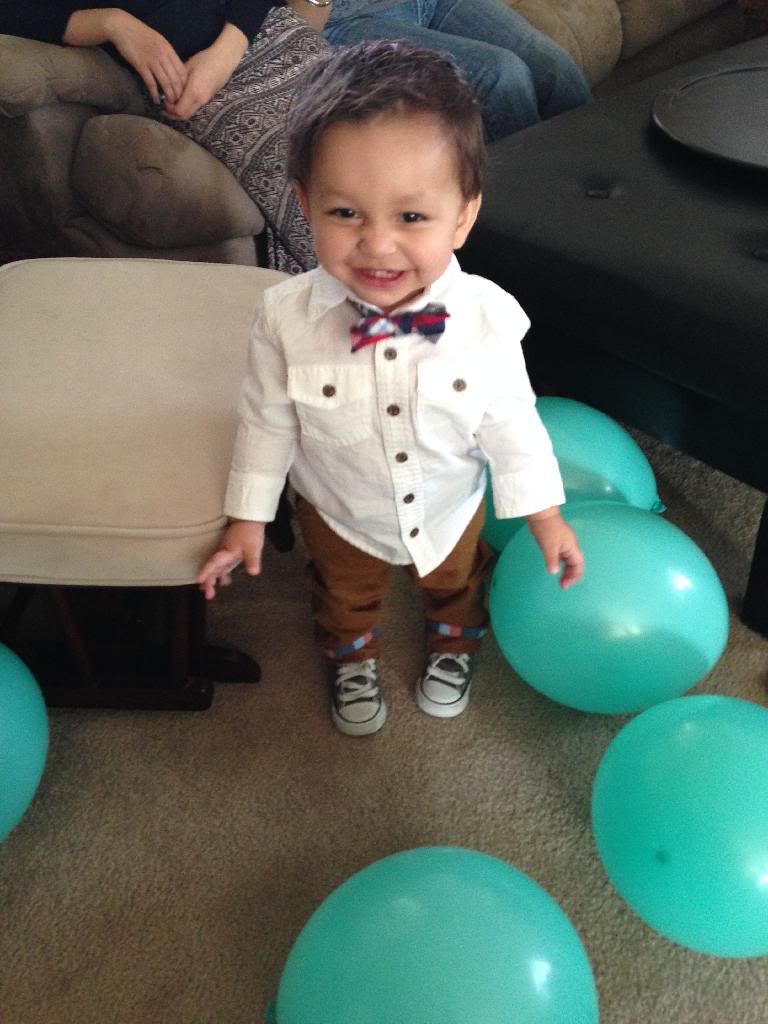 his birthday attire from JC Penny's


Noah and Cousin Maddie!
I also had the photo prop set up outside for people to take pictures in. It was so much fun! It was a hit! Even for the grown ups!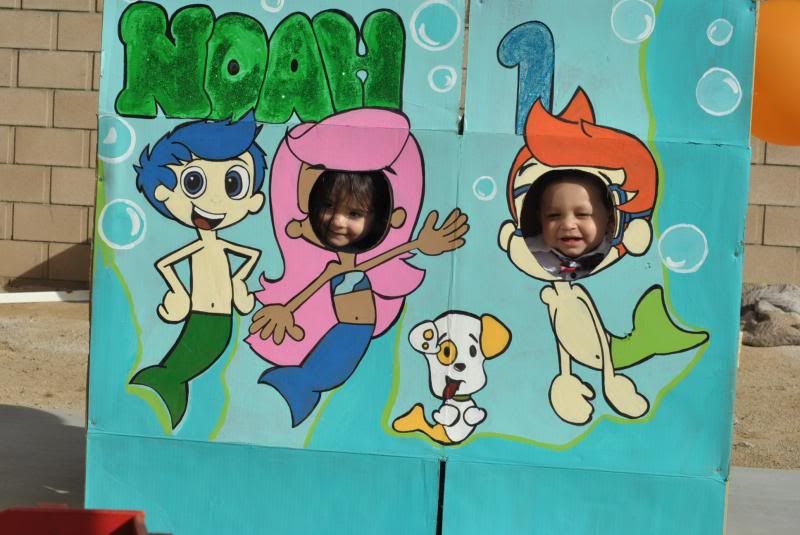 Micaiah & Noah
Me and Grumpy Noah

My silly niece and my cousin Linda
My mom & step dad!
my dad and step mom!
of course me and David had to take one!
After eating and playing with the photos, we brought out his Pinata and let the babies go at it!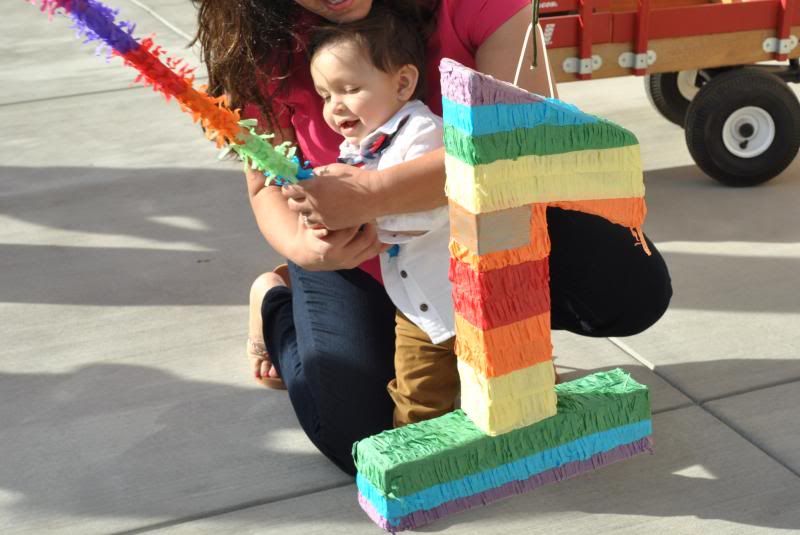 Noah and Grandma

Break time! Wagon ride!
Whoo! Go Angelina!
Mase! WHoo!
Miss Maddie! she tried and that's what counts! ;)
Back to Noah and ....
BAMMM!
okay okay, you caught me, so David might have helped a little ;)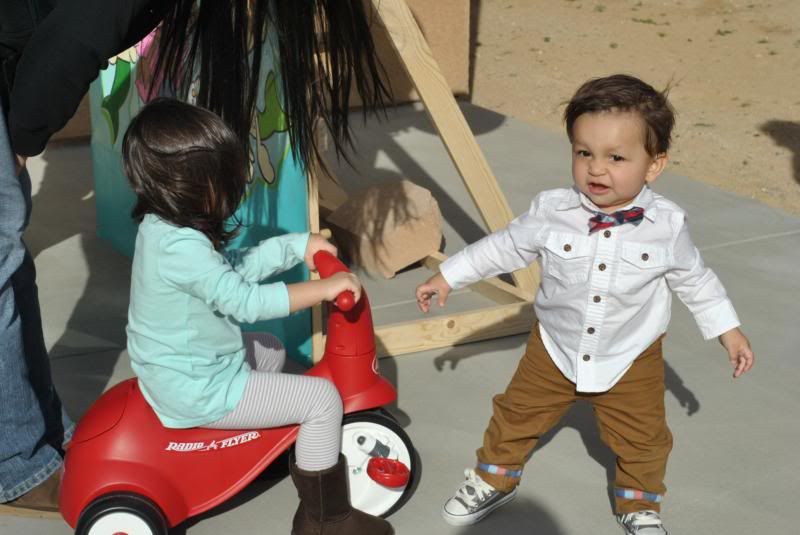 back to playing for a little
Oh Hey Cosby!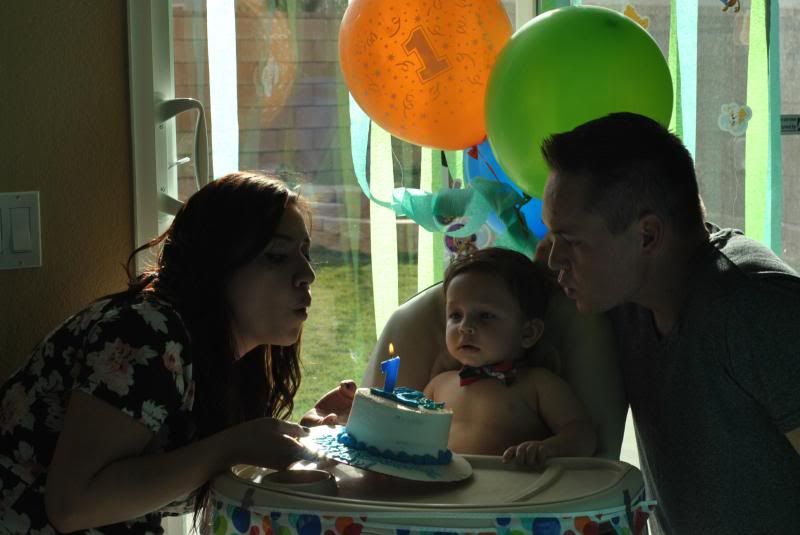 Birthday Cake time! We discovered he does not like it one bit!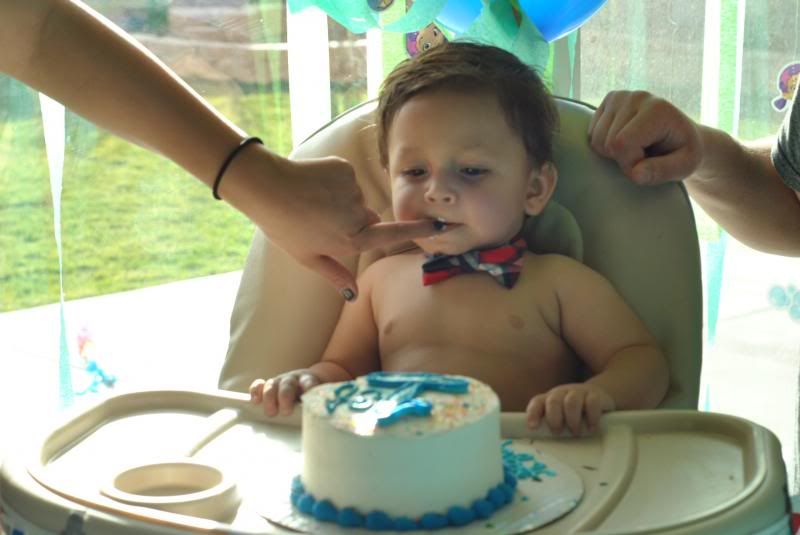 ONE
TWO (NO REALLY MOM, I'M NOT IN THE MOOD FOR CAKE)
THREE! (BARF)
The cake was from Albertson's. They actually did a free smash cake for us! Good to know!
While everyone enjoyed their cake, I put on a surprise movie I had made for Noah. It was so special. Everyone gathered in the living room to watch. It was a special moment.
After I wiped all my tears away, we went on over to open presents. That was so much fun!
I don't think I took pictures of the favors, I had bubble guppies bags full of little toys, coloring pages, crayons and candy.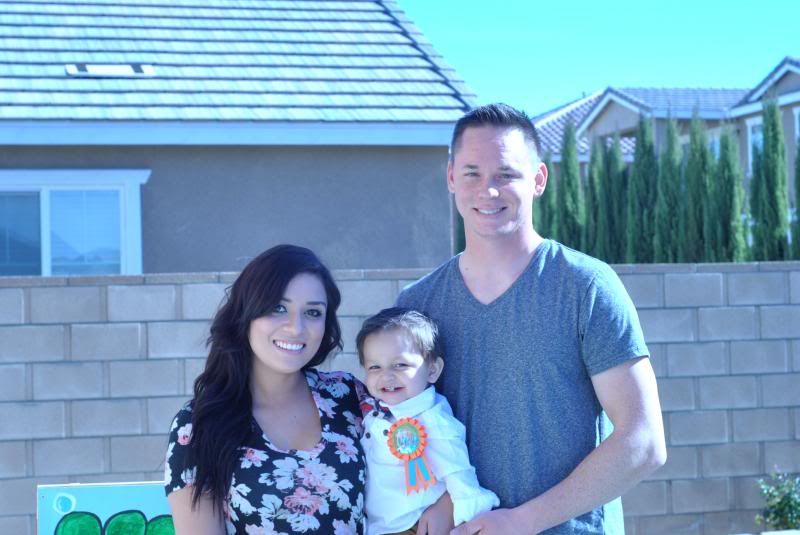 This was taken right before the party started. Noah had a pin!
My sweet baby. You light up my life!
The party was a success! I'm so happy with how it all turned out. Noah was so happy the whole day and really interacted with everyone! Happy Birthday my sweet baby. I love you so so much! We are so happy you have come into our lives, and changed it for the best! Let's keep making memories! =)
xoxo,
Mommy