Goodmorning! It's Wednesday and it's been a week since my last blog! I'll catch up where I left off, On Friday was my husband David's 23 Birthday! Sadly I had work and he had the day off, but we celebrated when I got off. I made two of my famous Thai Pizzas and this time on wheat dough. They came out sooooo delicious! The best yet! We had his mom and step-dad and little brother and sister. It was nice having them over, we ate, joked around, played with Cosby and David opened his presents.
My old man and his mommy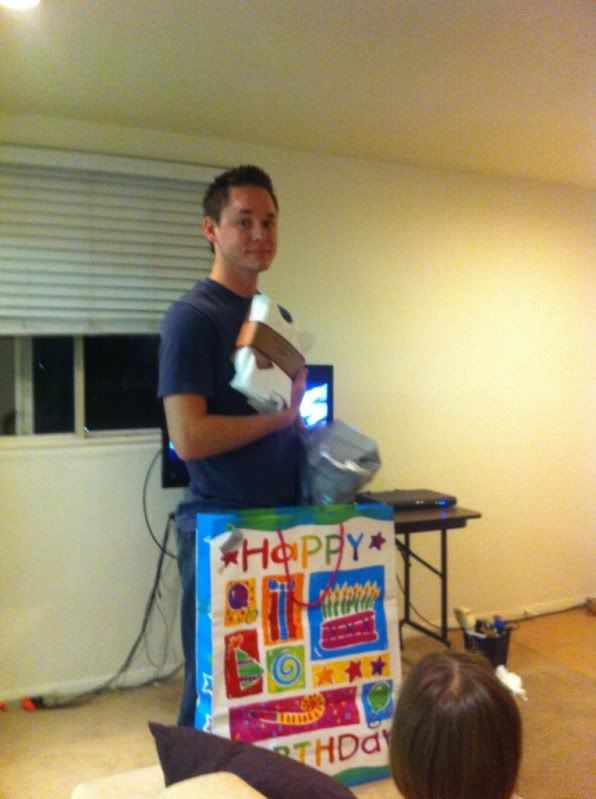 Opening his presents ...Socks!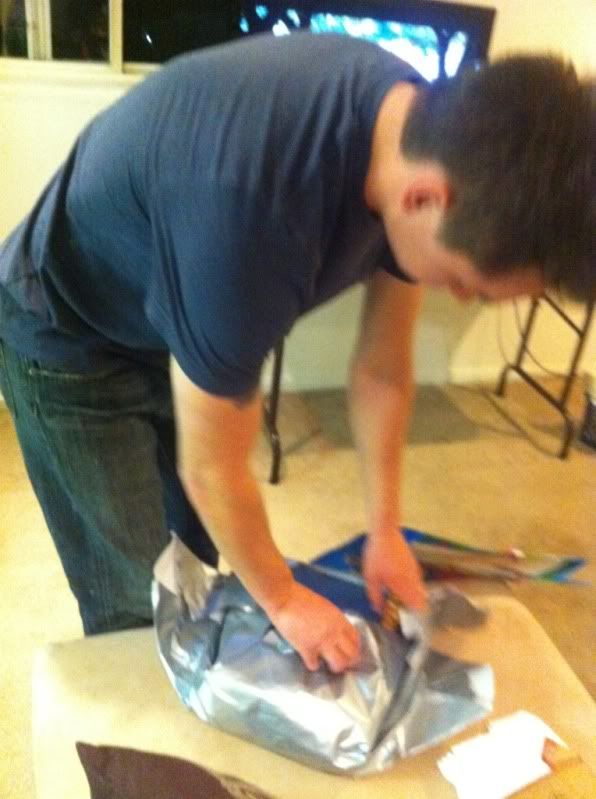 wrapping by his sister ha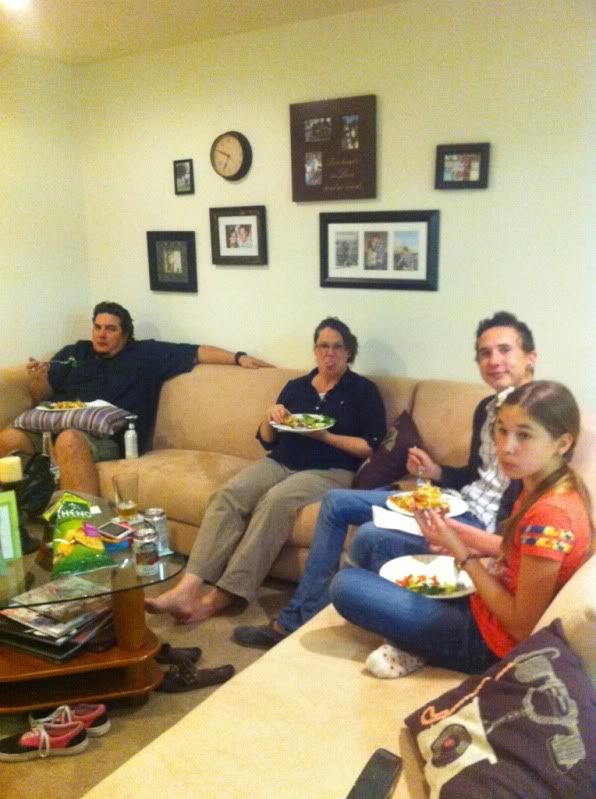 His Family <3 mom being silly
I didn't get in any of the pictures because I was a mess! I had just gotten home when I started getting ready and setting things out and cleaning up .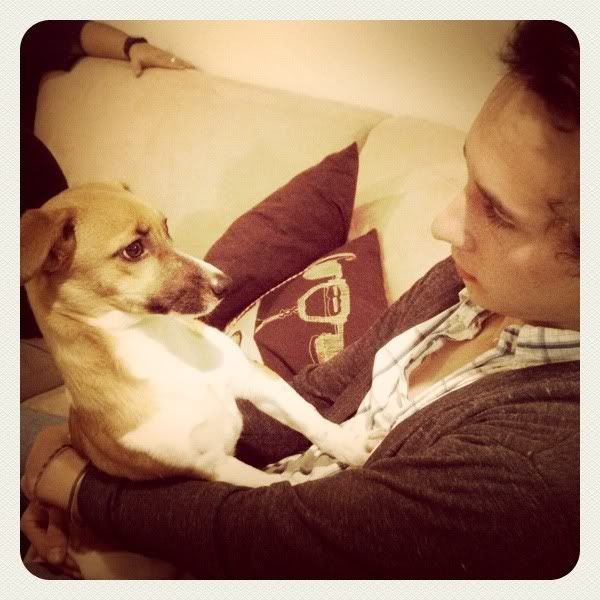 Starring contest with uncle Steven!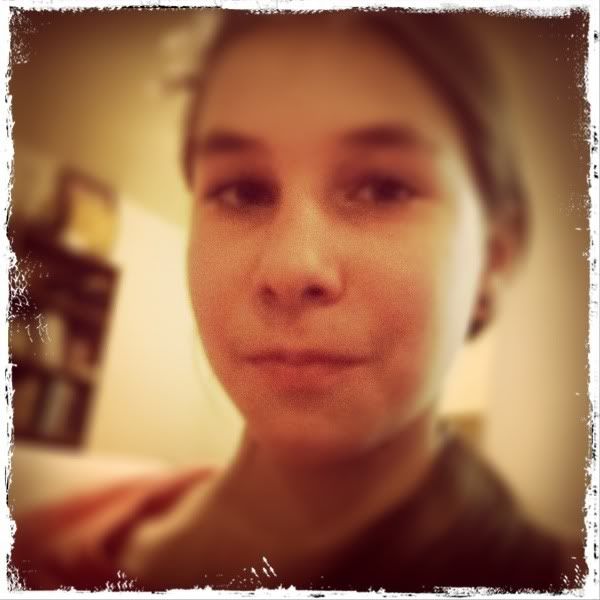 This is Grace David's little sister. See the likeness?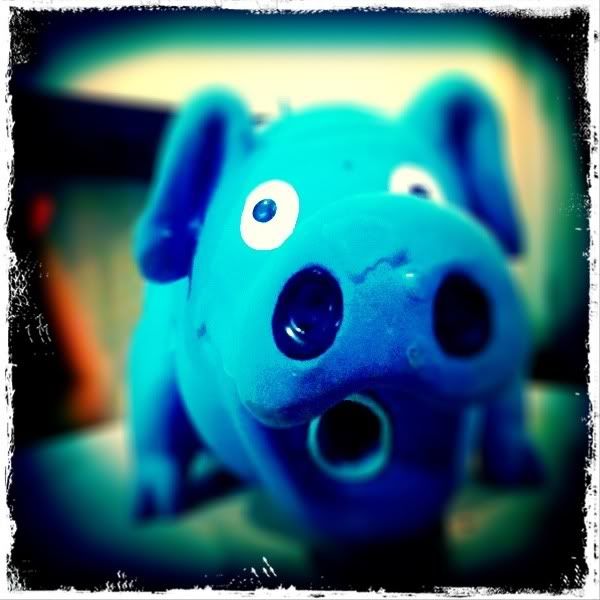 This is Cosby's noisy pig
Okay so now onto my Title for this post, I've decided to start eating right and get back into the exercising mode. I need to start being healthy again and in shape and I of course want my nice Beach Body back, after all I do live in Cali... So I've cut my carb intake down and switched to wheat with plenty of things and I've also challenged myself to NOT eat at any FAST-FOOD places for at least a month. I am allowing restaurants since I'll have healthier choices from the menu. I've also started snacking with healthier choices such as hummus with pita chips, Fruits, apples with peanut butter, & water!!!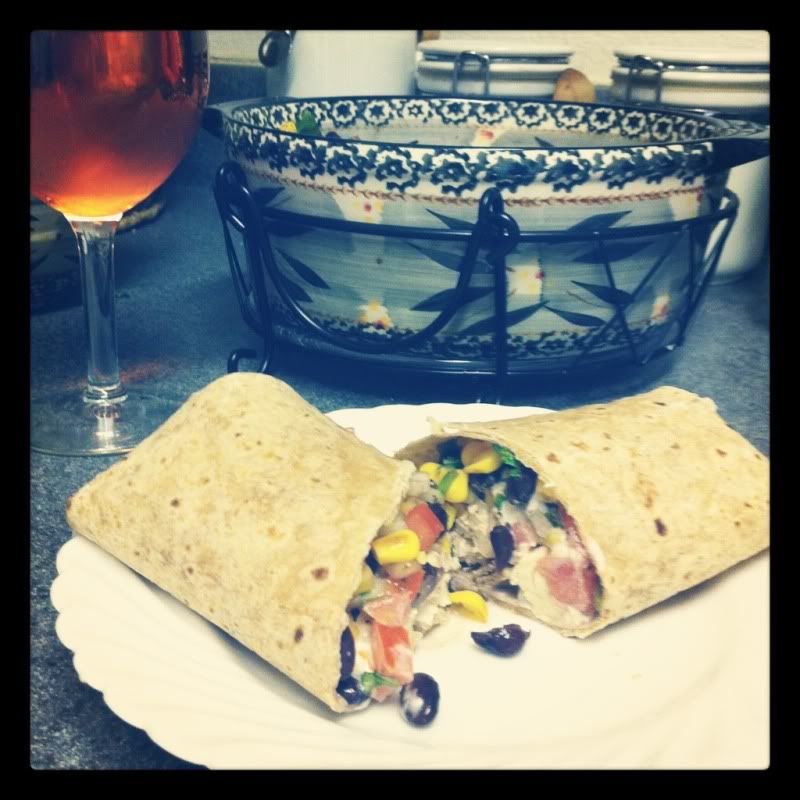 Yummy wrap I made, Corn, Black beans, Cilantro, onions and shredded chicken with balsamic vinegar on a wheat tortilla .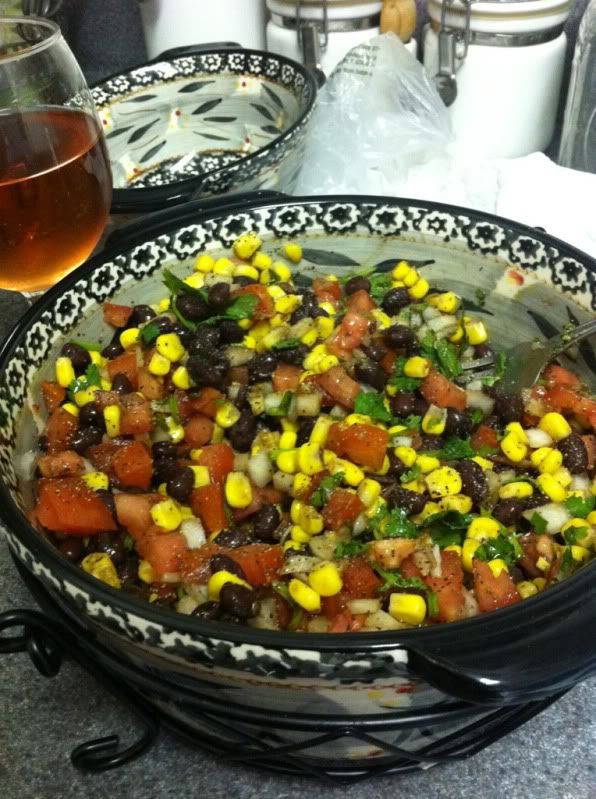 @Mimi's Cafe- 530 calories not bad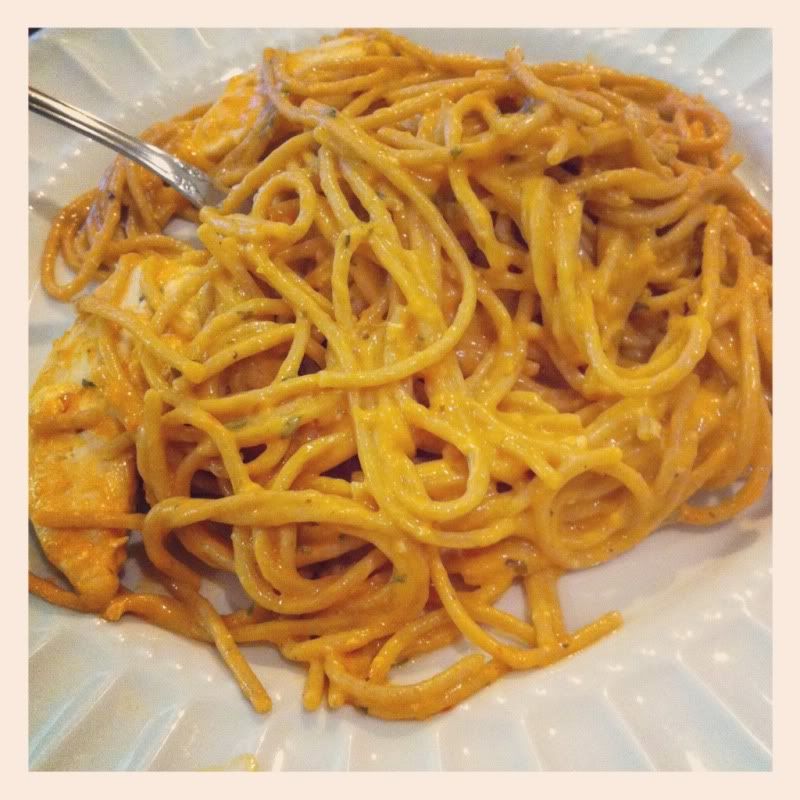 Whole wheat spaghetti with boiled chicken and marinara cream sauce.
So Yep I've been eating better. The other day we went hiking and man did that leave me sore! It was soooo good tho, 3 hours of hiking up a mountain here in my town and then climbing on rocks to find the most beautiful site ever!!!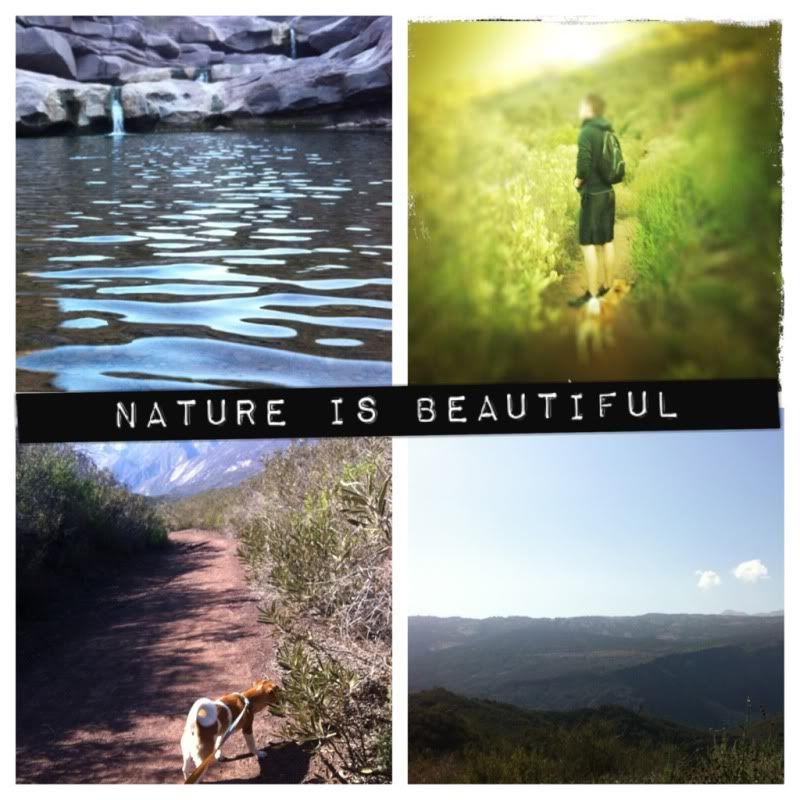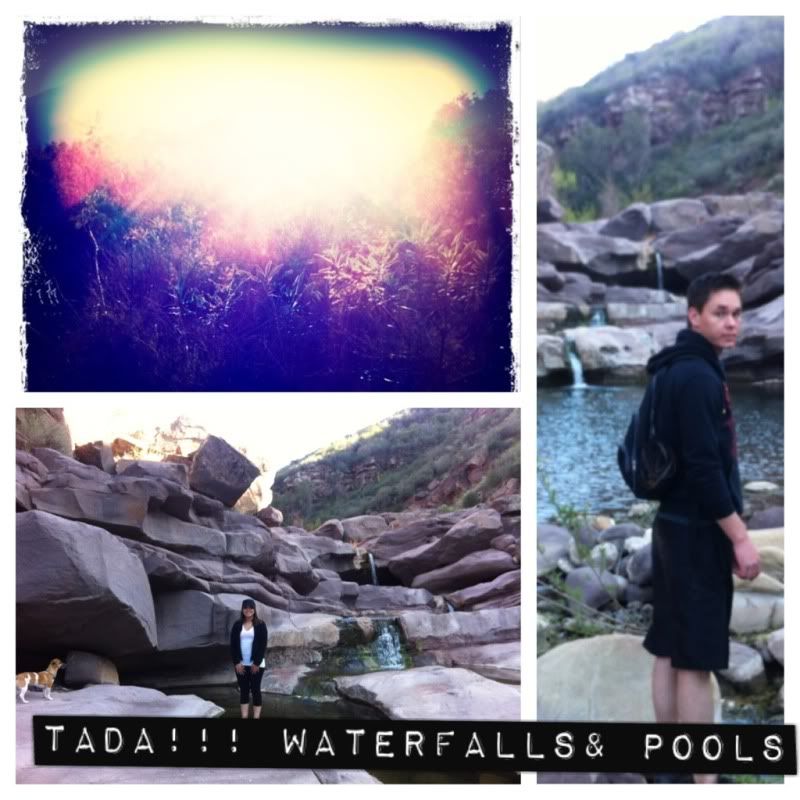 We had such a blast! We had a big scare though, See the tall rock on the picture where I'm standing in? Well we needed to climb up it so we put Cosby on the top of that Tall rock so we would be able to climb it and we were looking for another way to get up there and told Cosby to STAY and he was but the second we turned our backs, he made a BIG I mean Real BIG jump down from it! =0 We heard the thump and were so scared he hurt himself even though he landed on all fours, but we didn't hear a cry or anything, he tried to walk towards us and he was limping.... =( we ran over to him, checked him out and we figured he had really hurt himself.. so we decided to put him in the backpack and carry him in it like a baby with his head poking out and we'd take him to the pet hospital as soon as we got back..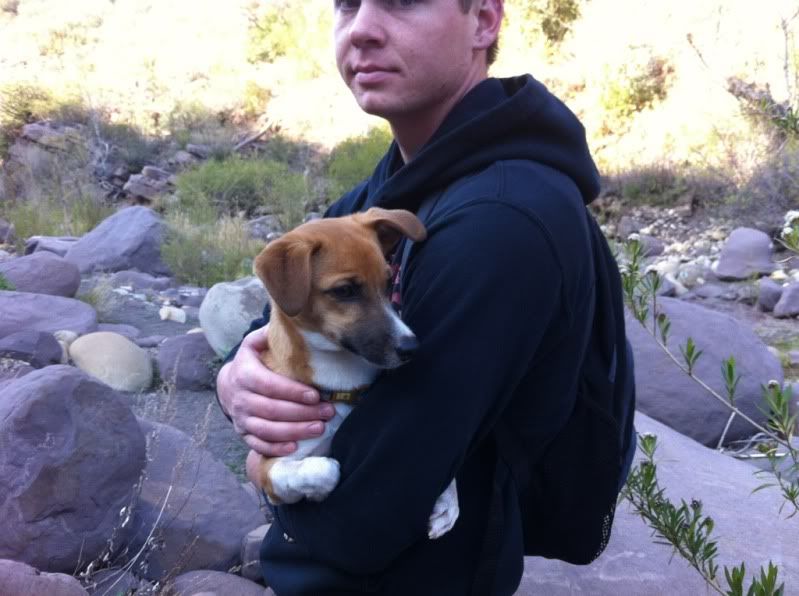 My poor little courageous lion... =(







We hiked for about 40 min with him in the backpack with David, until we took a little breather and put the backpack down to see how Cosby was doing and to our surprise, he got right out and started walking and jumping over rocks and back to being okay! Thank you God! I felt awful that he had gotten hurt but I'm soooooo thankful he was okay. =) My Boys are tough ones.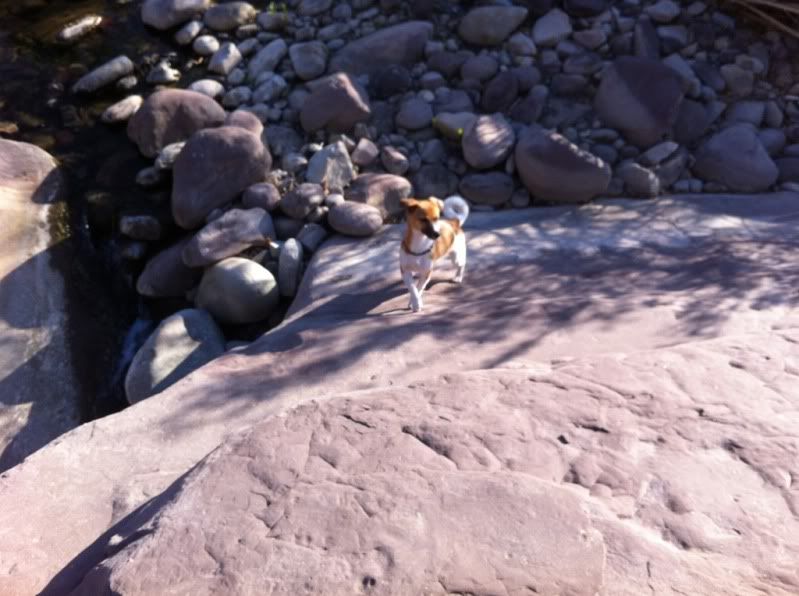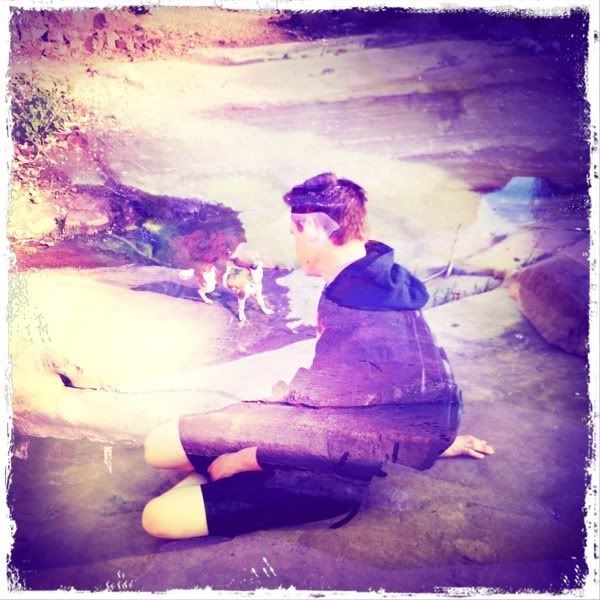 So that's one of the things I've included in my workout. Besides that, I get my cardio by going for Power walks with Cosby and then coming home, dancing and then working out whatever target area I want to get to that day. So all together I work out for close to 2 hours. And it feels good!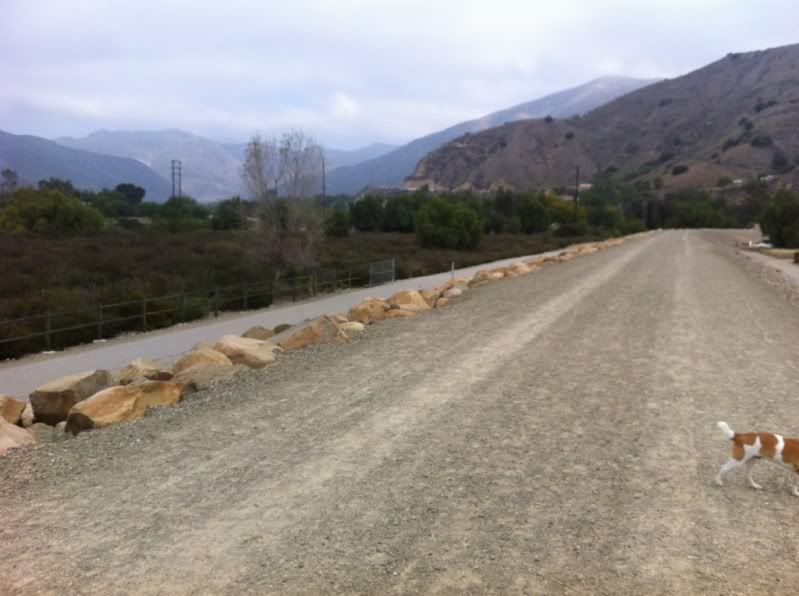 I love Fillmore, It's full of nature and Beautifulness... (good word susie...)
A couple of days ago my girlfriend Loops and I hung out and decided to take our pups to the beach! whoooo it's beginning to feel like summer, but don't be fooled by the sun, that water is freezing!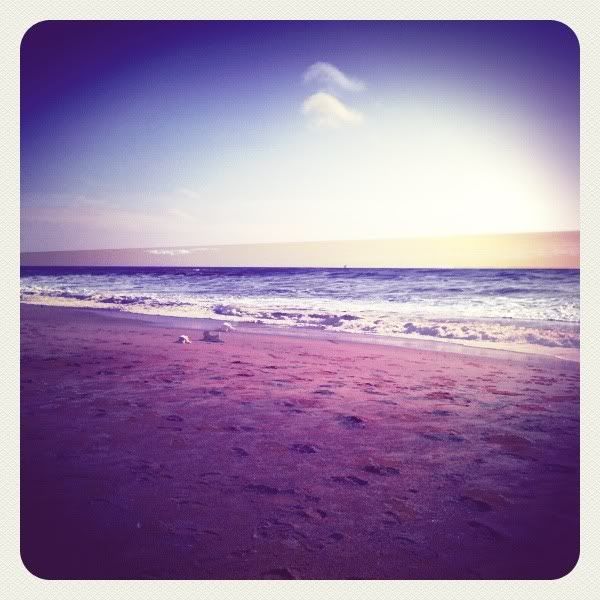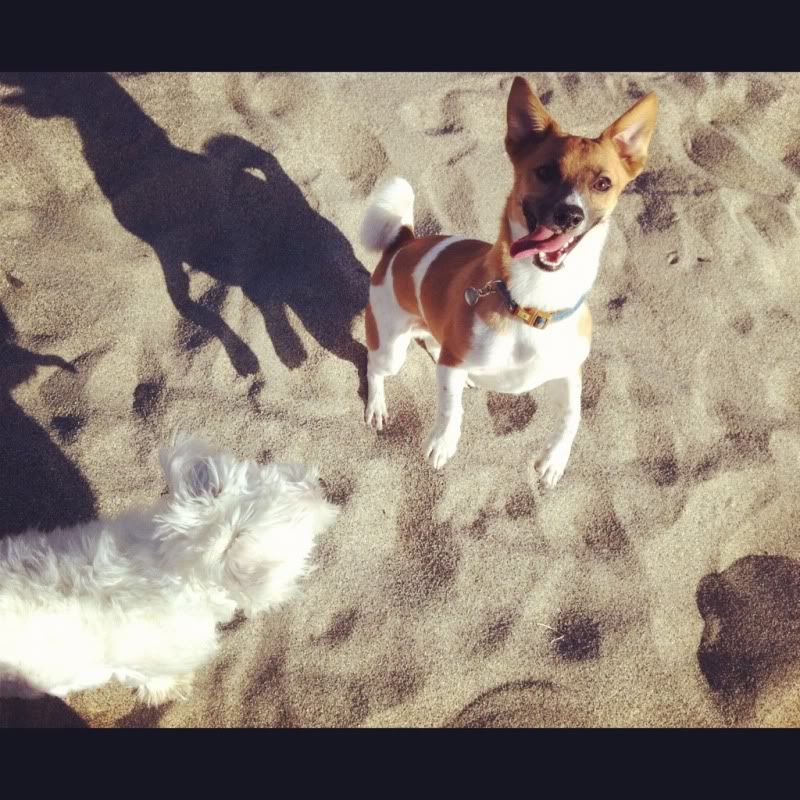 Cosby with his partner in crime Wilson..
These two are nutz together! They were running around us in circles, chasing all the seagulls visible, running behind strangers that were jogging and Wilson who isn't afraid of water ran in to the waves and all.... They were crazy! But I love seeing puppies being free to run in an open area like the beach. It's cute.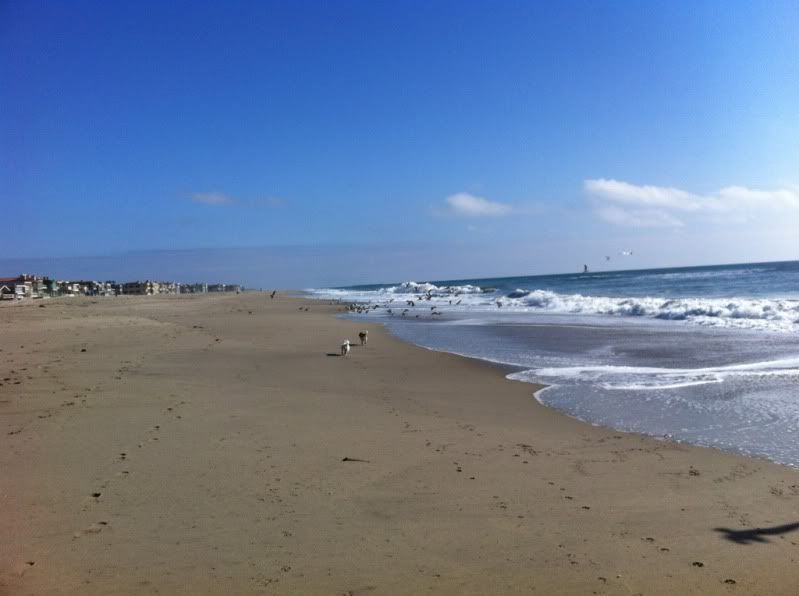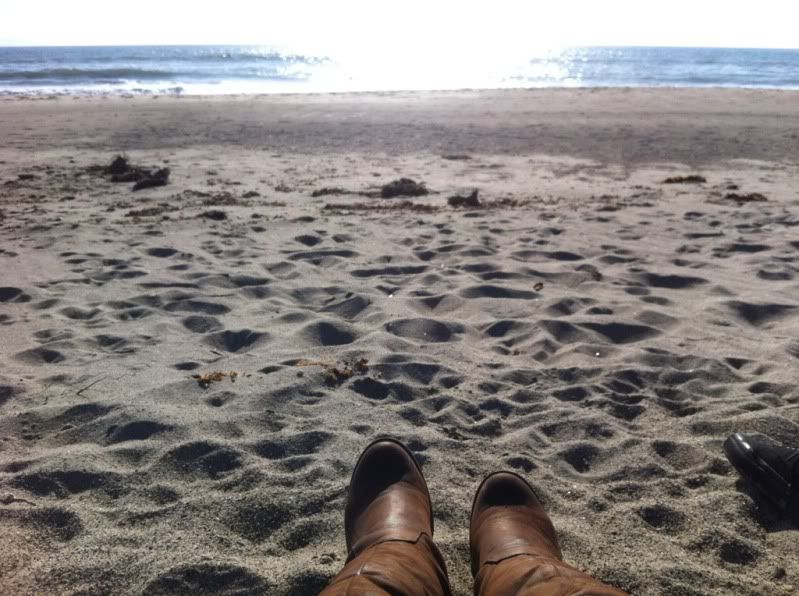 Yes, I wore my boots at the beach, It was chilly out!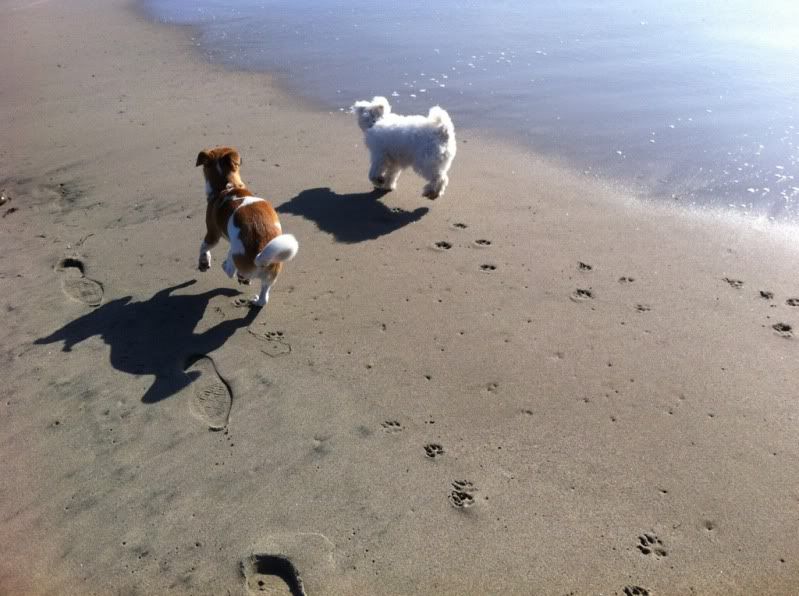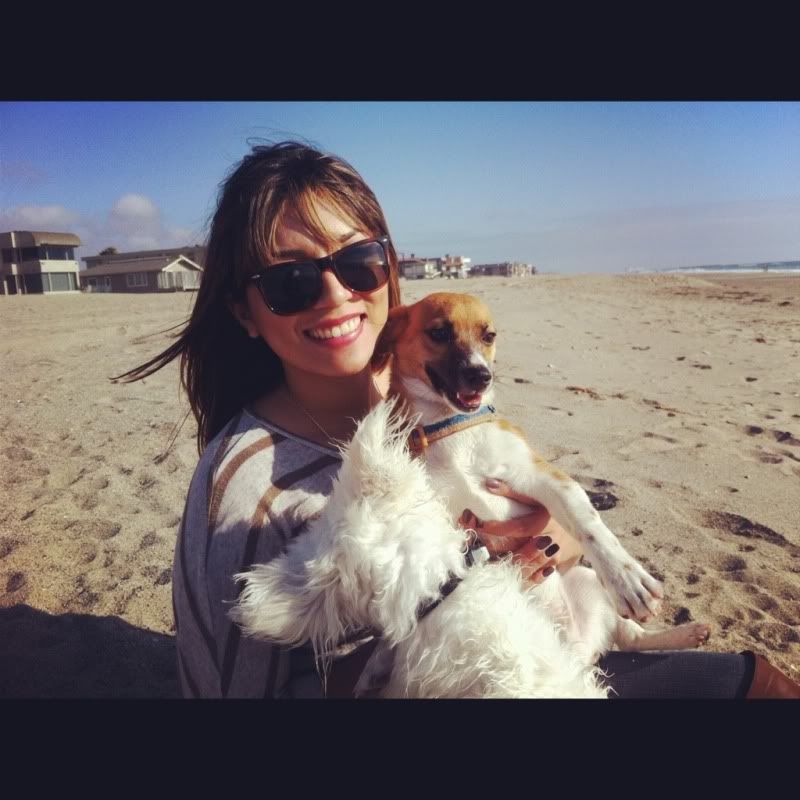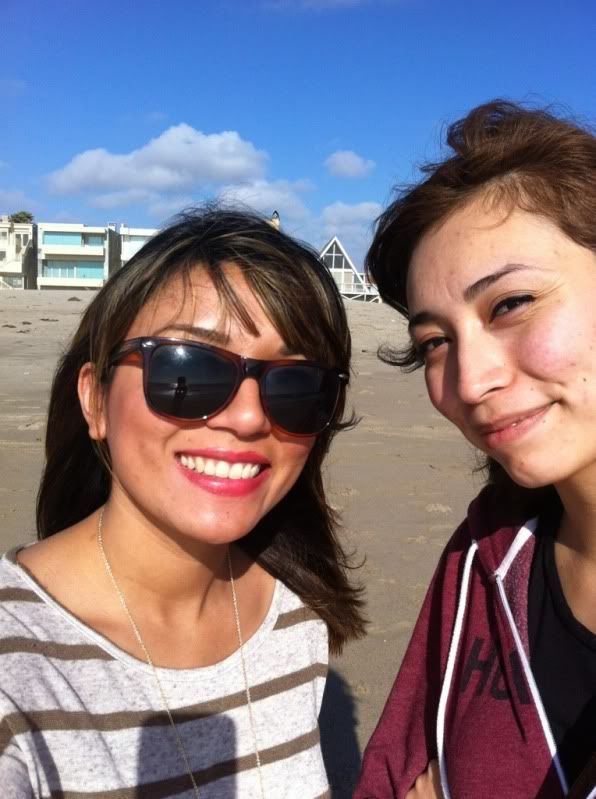 Me & Loops
Cuties!
After the Beach Loops treated me to dinner and took me to T.G.I Fridays and we had a Mango Margarita that was huge and I ate a salad... lol Yum!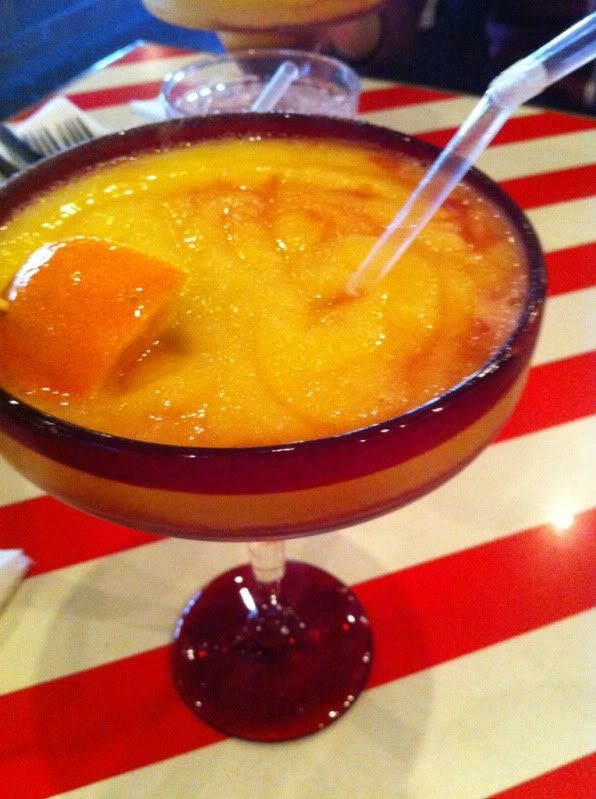 Thanks girl! It was yummy!
This Morning, My mom and step dad left on a mission's trip to Spain with their church! I'm soooo excited for them I can't wait to hear about it all when they get back in two weeks. =) I brought them coffee early in the morning and went with them to run a couple errands. And in the blink of an eye they were gone! BYE mommy, I love you !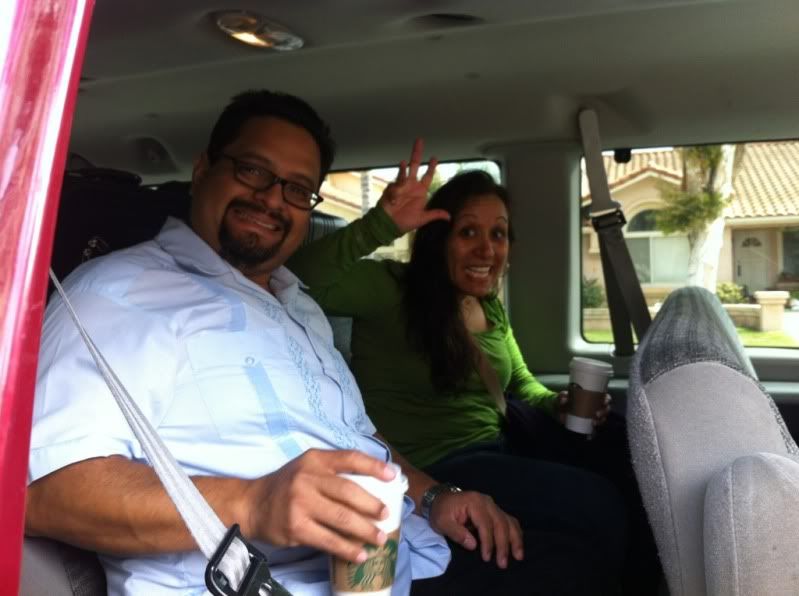 ha My mom's like PEACE! lol


So this weekend should be a pretty chill one. I might go out with David's sister and her husband for St.Patty's day but besides that It'll be a quiet weekend! I hope everyone is having a great afternoon!
Oh and my new distraction at the moment is this game Draw Something! It's like pictionary but on the phone and you can see while the other person is drawing on their screens! I Love it! Try it and play with me! heehee!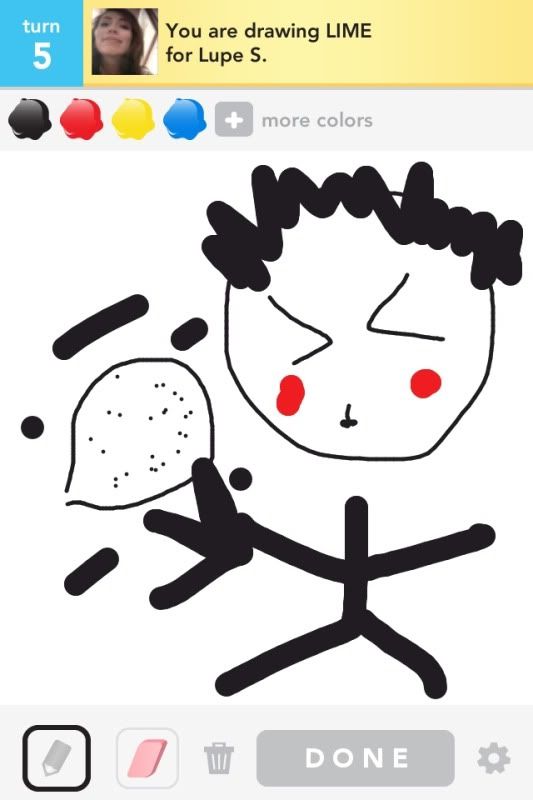 Me trying to draw a lime. Lupe has to guess.


Have a good day!