Oops sorry for not blogging! Life has been busy lately and very good! Where to begin? There's so much to tell... I guess we can start with how St. Patricks day went... well Mr.McD was at work so I went out with my girl friend Lupe. We met up for finger food at T.G.I Fridays, again.., and got a couple of girly drinks. ;) We had a blast just rambling on being girls.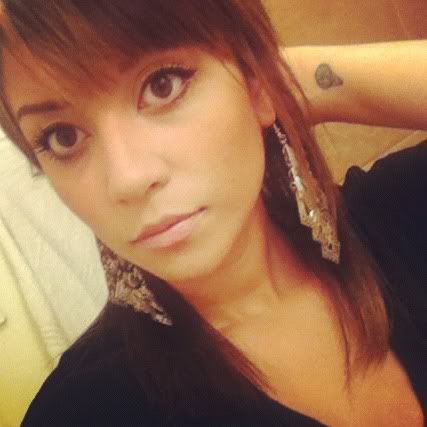 I got all did..
Lupe making a squishy face ha. I don't even think she had any drinks yet.... weirdo


And then we had one margarita..





And then a Second one... and I stopped there. ha



The Next day David and I went to church, It was an great service as always. The Church building is getting a complete makeover so everything is all out of wack but still up and running. It's amazing all the work they've done in less than a month! And it's coming along amazingly! After Church, David and I went to my mom's house to check up on my girl BlueBell ( pitbull) since my mom and Rudy are out on a missions trip in Spain! (bunch of luckies!) So I'm in charge of making sure Blue has enough food and water and good. There's someone living there with them so Blue isn't totally alone, But I still check up on her. Oh and we did laundry there while we were at it. ;)













Put a mustache on Blue. ;-) Cosby and her go nuts together, he does the Nascar all around the house until he can't go any more. I love seeing them both run around. If only we had a big yard and house, I'd have them both together in my house!
Back home after a day of playing with the big sister. ;)
During the week it was same ol' schedule of work and school but on Wednesday we had to head south to San Diego for David's Fire fighter exam on Thursday at 7am. My Babe had been studying so so so hard for over a month now. His dad and step-mom were wonderful and booked us a hotel to stay in for the night so that David would be able to rest enough before the big test and study. He sure did study!
On our way to San Diego we stopped at a rest stop to enjoy the pretty view and we stumbled upon a buttload of squirrels! They were insanely friendly, like running up to us to say hello and then running away! It was scary but fun!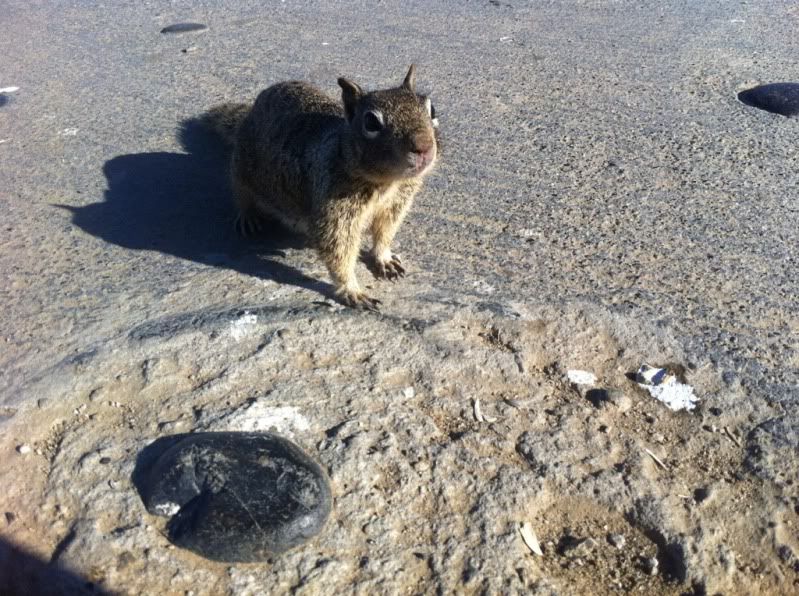 Him studying his butt off and me having nothing to do but play with my phone.. I had to be quiet.. ha
Went to Chili's for lunch and got the 3 course meal for like twenty bucks!
Lemon glazed grilled chicken with rice and black beans: 500 cal.

I was doing so good until I came across this!
Bam! Delicious! chocolate chip cookie paradise!
Afterwards we went back to the hotel, took a nap since we had a food coma and then we got up and went for a nice walk at the beach. The beach there kinda reminded me of Jersey Shore, the show... ha It looks just like that boardwalk with a bunch of young crazy people being all loud and all. I it must have been their spring break.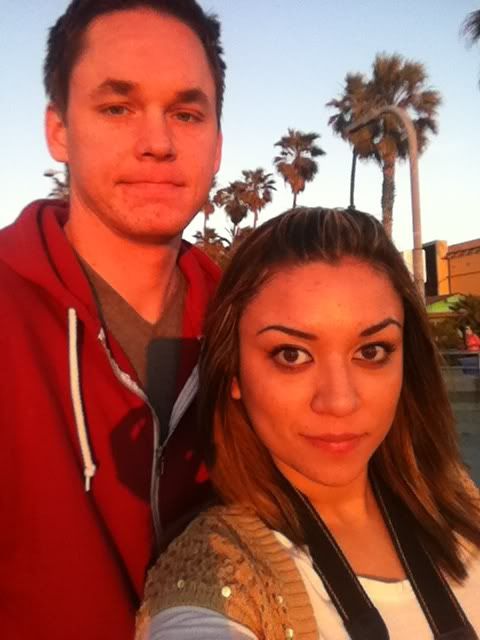 Enjoying the sunset looking like tourists.
So pretty!
And then the sun went buh bye..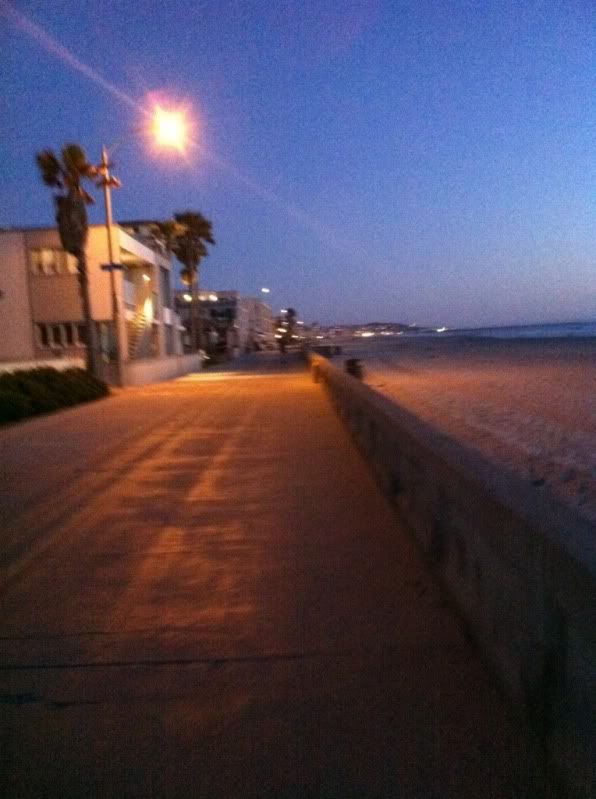 Don't be fooled, I waited until there was no one in my way to take this picture. It really was infested with people,dogs and weirdos ha .
So the following morning he got up super early to get ready and study some more and and 6:30am I dropped him off to take the test. 3 and a half hours later I checked out of the hotel and hurried on up to pick up the boy who was standing outside the building with a big grin. =) He said he felt very confident about how he did and that he studied the right material. So I'm confident that if this is where God wants him to be, he will surely make it happen. I'm excited for him. This is really what he wants to do and I love that he's following his dreams.
So on our way home we stopped at the next town over which was Carlsbad and stretched our legs out and walked. It was a cute little downtown they have. We'd love to live there if he works for San Diego.
So that was Wednesday and Thursday. For the weekend I was on my own since the boy had to work a 48 hour shift in order to have had the other days off... So on Saturday I decided to go visit my Grandma in Santa Barbara so Cosby and I left early and She had breakfast all ready for me with coffee! Yummy!
We talked and talked and talked and then laid down and watched tv. I love LOVE love my grandma, She's one of my bestfriends and she raised my brother and I . She's always been there for me and has always taught me things.
He loves it here !
One thing that I'm super thankful for with my Grandma is for showing me to thrift store shop! =) so guess what we did? Just that! We went to a local thrift( don't know that name...) and I found so many good things! I only spent $29 too! I would much rather get 10 items at a thrift than one shirt for that much at a department store! Okay so this is what I got:
All pretty Brand new things! Whoo! Score! And then Grandma also had sandals for me at her house so I got all these:
Thanks Grandma <3
After all that Thrifting we needed to refuel and she wanted In n' Out so I took her there. She had a huge smile on her face the whole time =D
Protein style=no buns lettuce wrap
So that was my Saturday with my Grandma. I got home at about 7pm and spent the night cleaning and getting ready for David to come home! We recently got a little table for the two of us so I got to set it up and make it pretty.
It's got a little storage space right under it!
He hears me snappin away and has to just get right in the photo... little show off! ha
That night, I enjoyed eating on the table and at some chicken and veggies .
Yesterday we got stuff done while he was home. I was so happy to see him! We ended up oversleeping and waking up at 11! so we actually missed church =( After being lazy in the house we decided to go to the Do it Center and get a couple of Succulent plants to make a terrarium with and plant one. They were $3 so we got the two and here's what the project came out like:
I'm in love with this!
It was rainy all day yesterday so I thought it would be perfect to make some delish baked spaghetti! It came out really tasty!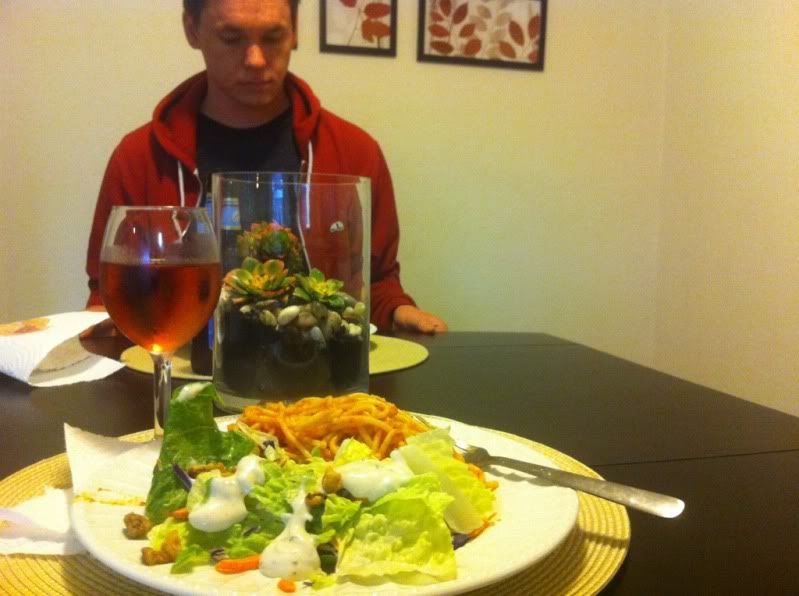 Our first meal together on the new table =)
ugh he doesnt do "normal" with photos..haha
And for dessert:
Yestrday I wore my new shirt I showed you along with the sequined flats.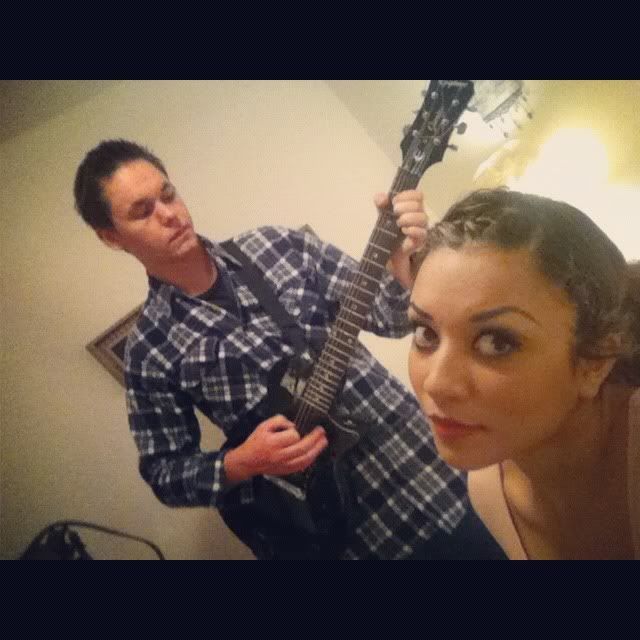 The usual, him playing guitar while I get ready
I'm currently working on another project, I'll share with you when I'm all done, It's super easy to do just time consuming. Now for some Random photos...
Made these for the boy via pinterest Click
Mr. Clean
Hello love
He shows me love right back <3 He does this a lot , almost like saying " I'm here and I love you" . =)
early morning kisses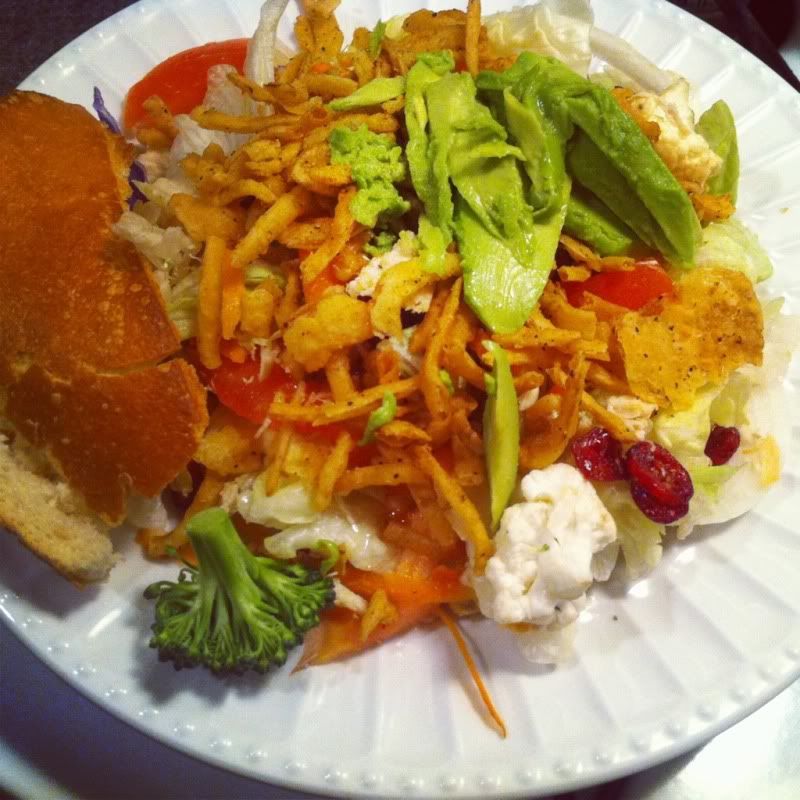 My salad creation... Just put all in one.. lettuce,veggies, cranberries & walnuts, avacodo, peppered crispy onions and shredded chicken topped off with light ranch dressing.
Got my nails done like I said I would
Cosby loves sleeping during car rides
Ok I think that's more than enough to share for now! I hope I didn't make you too hungry! ;) happy Monday